Monday August 7, 2017
By Richard Bosselman
AN incoming one-tonne utility tipped to further accelerate the sales pace of fast-growing Chinese brand LDV won't be blemished by a poor crash test result.
This belief has been expressed by Great Lakes Motor Distributors in the wake of a scathing attack from Government-accredited safety agency, the Australasian New Car Assessment Programme, in respect to its most popular current product, a van that also configures as a people-carrier.
A three-star crash test result just issued for the LDV G10, which sells here in two-seater commercial and nine-seater passenger formats, is the second successive damning score from ANCAP. In 2015 its V80, another van, was slammed for achieving a two-star result.
GLMD remains highly confident, however, that the incoming T60, an entry into the booming one-tonne utility sector, will achieve the same level of safety as the category big guns, which all have the five star maximum.
That will be important not just for its commercial sector credibility – because many fleets insist on only five star product – but also with family users, who now see double cab four-wheel-drives as substitutes for full-blown sports utilities.
There is no indication when ANCAP, which is based in Melbourne and receives NZ Government and NZ Automobile Association funding and support, will crash test a T60.
However, a senior manager with GLMD, which is run by colourful father and son Rick and Deon Cooper and also has the rights to SsangYong, assures the ute will be the first LDV here to achieve a top-level rating.
"We have full confidence in (LDV owner) SAIC, who have committed to making all future products from LDV achieve a minimum of a five star ANCAP score." asserted sales and marketing manager Warren Willmot.
"SAIC Motor (LDV) are committed to becoming a global vehicle brand. They understand the importance of safety in their export markets, including the UK, Australia and New Zealand.
"Their newly opened test facilities are state-of-the-art, and the level of investment made by SAIC is remarkable."
In releasing some pricing details for the T60, which seems vaguely Ford Ranger-esque in size and styling overtones, GLMD has gone against normal convention by citing stickers that are exclusive of the Goods and Services Tax.
This, Willmot explains, is because most LDV product goes to commercial users who are used to GST-exclusive pricing.
"LDV pricing is always marketed with GST excluded as 95 percent of LDV customers are business/companies."
He said this was common practice in the commercial industry. Regardless, all major players issue GST-inclusive prices and, certainly, the tax is likely to apply somewhere in the calculation.
With GST, the T60 obviously doesn't look as sharp as GLMD would have it.
With the 15 percent tax loading added, the entry manual double cab 4x4 model that it cites as a $28,990 offer figures at $33,338. The alternate six-speed automatic is set to cost $35,638.
The T60 is also available in a four-wheel-drive Luxury grade, priced at $37,938 (GLMD says $32,990 plus GST) for the manual and $40,238 ($34,990 plus GST) for the automatic.
With tax included, the Mitsubishi's Triton would seem to be the nearest-priced big name rival.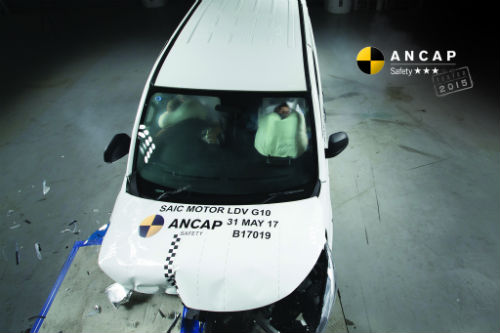 LDV will be adding single cab models to the T60 line up in December, followed by rear-drive units in 2018 and also a rebodied seven-seater SUV variant known as the D90. Prices for those models have not been cited.
LDV says it is supporting the T60 range with a five-year, 130,000km warranty and roadside assistance package.
Meantime, there has been no comment about how the G10's crash test result might affect LDV's standing here. The model was a significant driver in the brand having raced up the sales charts in 2016, when it was cited as the second fastest-growing marque represented here.
The model has been the subject of a high-profile marketing campaign, in which a courier cites having clocked 1.1 million trouble-free kilometres in the type – though the fine print reveals it was actually a cumulative count from a number of vehicles, not a single example.
ANCAP was critical of the model for having sub-par safety equipment and structural integrity, a finding that has spurred the New Zealand Automobile Association, which speaks locally on behalf of ANCAP when crash test results are released, to suggest the passenger edition should be given a wide berth.
AA Network Support Manager Phil Collings says it's disappointing to see a vehicle designed as a family car rate so poorly.
"This is the type of car you would either spend a fair amount of time in for work, or use to transport a big family or group, and yet it fails to provide sound structural safety and is missing key safety features like seatbelt pre-tensioners and head and chest protecting side airbags," he says.

The van achieved an overall score of 24.49 out of 37, with a score of 9.37 out of 16 recorded for the frontal offset test, with the head region of both front occupants recording 'good' ratings, but all other body parts scored 'marginal' ratings save for the lower leg area, which was deemed 'acceptable'.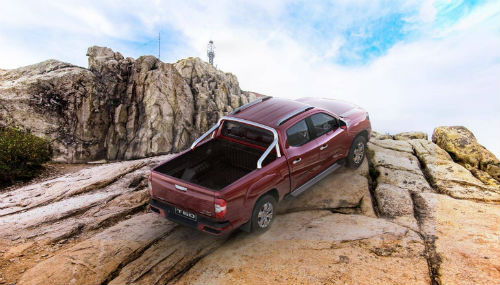 ANCAP said the frontal offset test resulted in excessive brake pedal movement, a split in the driver footwell, and the steering column and dash components providing potential knee injuries for the occupants.

A default score of 16 out of 16 was achieved for the side impact test, even though the test as not taken.

ANCAP said that large vehicles like the G10 can be expected to perform well in the side impact test, therefore a default score of 16 was awarded.

The pole test, whiplash protection test and pedestrian protection test were not undertaken, due to the fact that the outcome of the tests would not improve the G10's overall rating.

As the NZAA points out, the G10 is only equipped with dual frontal airbags and side chest-protecting and side head-protecting curtain airbags are not available.

The G10 is also devoid of autonomous safety technology, with autonomous emergency braking and lane support systems not fitted.

ANCAP chief executive James Goodwin said the lack of safety in the G10, and in commercial vans in general, was disappointing.

"There were a number of serious concerns with the G10's structural performance with the driver footwell rupturing and excessive pedal movement. Steering column and dash components were also a potential source of knee injury for the driver and passenger," he said.

"The G10 also lacks important safety features such as head- and chest-protecting side airbags and seatbelt pre-tensioners which consumers today expect to be provided as standard – particularly in a vehicle which can carry up to nine passengers.

"The safety standards of passenger and commercial vans remains well below those offered in other segments with 67 per cent of vans rated by ANCAP holding a rating of four stars or less so we urge all brands to ensure an emphasis on safety carries across all market segments."
Asked for comment, Willmot referred to an official statement that came out of LDV.
"LDV and SAIC are disappointed with this result and will use the valuable data from this test improve the LDV G10's safety performance.
"SAIC recognises the importance of safety and is committed making all future products from LDV achieve a minimum of a five star ANCAP score."