Sunday May 14, 2017
By Richard Bosselman
YOU know the story about the weeny kid who, tired of having sand kicked in his face, built up his muscles then turned the tables?
That's Skoda. Plucked up by Volkswagen at point of ruin, one of the oldest names in European car-building has reborn and revitalised to become a shining light example of how a value brand can hit the big time.
Recent celebration of its 25th anniversary as a subsidiary of the German group came with sincere appreciation from its owner.
And why not? Relatively untarnished by the two big auto scandals of the moment – dieselgate and the Takata airbag recall - Skoda has been VW Group's shining knight. Just released financial detail shows stupendous growth and success.
Skoda has returned profit margins topping those of luxury sister brand Audi and has become Volkswagen Group's second-most profitable business after Porsche, based on margins.
The reward? From VW Group, a high-profile assignment. Chief executive Matthias Mueller has entrusted Skoda with the strategically critical development of a budget car for emerging markets with Indian partner Tata Motors. It's a challenge, but with so much success as a benchmark for building stylish, yet inexpensive cars, Skoda seems 'right' for the job.
Skoda's climb has occurred despite it not participating in the highest-profit sector. So far the run has been largely due to two products popular in New Zealand, the high-margin Superb flagship sedan and wagon and the medium-sized Octavia, which comes here in sedan, liftback and wagon formats.
They're road cars, and therefore not what the world – and New Zealand in particularly, given they achieve a 56 percent incursion – wants.
That all changes now, with the Kodiaq. Named after the Kodiak but with the last letter changed from a 'k' to a 'q' - Skoda says this is in tribute to Alaska's native Alutiiq people who identify an animal by ending its name with a 'q' (but it could also be to avoid litigation, as there's already a Chevrolet Kodiak) – Skoda's new medium sports utility is actually its first ever SUV.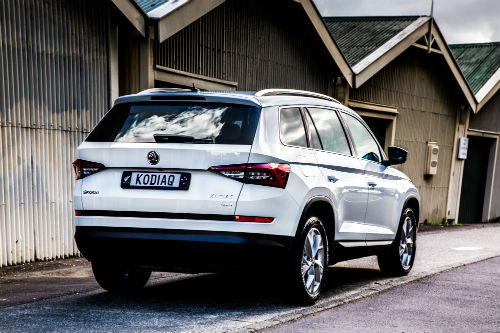 Can you believe? Well, actually, on seeing it in the metal it's hard to. No, that's not a jibe. Anything but. This new addition to what is a relatively small pool of medium seven-seaters is brilliant. How would you feel were a Kodiak bear to wander into your space? That's exactly how other SUV providers should respond to the Kodiaq.
This car stands to cause significant upset in its segment, so utterly right it is in respect to its size, design, engine choice, specification and price span.
It also raises a few questions: One in particular being, can a big seven-seater sell itself with the smallest engine in the category, a 'mere' 1.4-litre turbo petrol? And what, exactly, can you expect when the entry format sits $10 below the crucial, for some, $40,000 line; surely a car of this substance would have to be an utter stripper to cost the same money as a seven-chair offer from a much more compact class, the Nissan X-Trail?
In respect the second question: Don't worry. In regard to the first … sorry, can't tell you. The media launch programme only included a single 1.4-litre car and, so intense was the group's curiosity to discover how well it would go in a car weighing up to 1723kg, the usual car launch etiquette of rushing to nab the best-dressed models and considering the base car as a booby prize was, for perhaps the first time ever, wholly ignored.
So, we've no idea how well that 110kW/250Nm 1395cc unit performs. Those who had a go spoke glowingly.
Instead, my focus had to restrict to most expensive fare, the highest-reaching Style model in its $54,290 132kW/320Nm 1984cc four-cylinder turbo petrol and 140kW/400Nm 1968cc four-put turbodiesel formats. Hardship, I know, but someone had to take one for the team …
Before talking about the drive, back to the salient attractions of size and specification.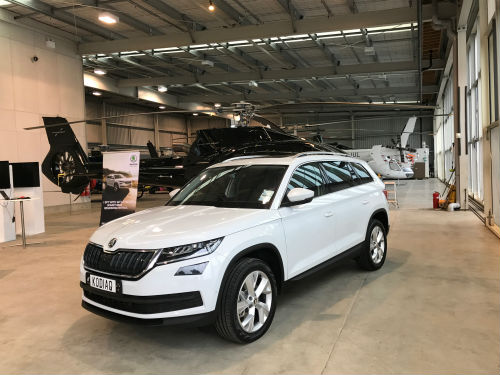 The Ambition is well named. The only saving is in engine size (and maybe spirit). In terms of presentation, it's pretty smart: Alloys, cruise control/speed limiter, air conditioning, a reversing camera, partial leather seating, full LED lighting, front and rear parking sonar, automated emergency braking, a voice enhancer (back to that). Yes, it's front-drive, but strong sales of SUVs in that format suggests, that won't be a problem.
All the same, Skoda NZ expects more consumer interest in the all-wheel-drive Ambition Plus and Style levels. The first adds three-zone air con, sat nav, leather, heated front seats and steering wheel, keyless entry and start and multi-hued ambient interior lighting. The latter implements a higher grade of leather, has a fancier sat nav, park assist, a full range of parking sensors and adaptive cruise control. The latter also runs a dynamic body control and is on 19 inch wheels, whereas the others run 18s.
So there's that. Then there's the size thing. In addition to being a fully-equipped car it is also a physically substantial one.
Within Skoda-dom, Kodiaq slots neatly between the Octavia and Superb wagons, being roughly 40mm longer than the first and 160mm shorter than the second (though the wheelbase is just 50mm shorter). For broader category context, note that it sizes up almost identically to the Santa Fe.
Don't be surprised, though, if you contest the latter. I did simply because, from the outside, the Kodiaq doesn't look so big and also, even though it has obvious height, there's still a sense that it has more of a station wagon than SUV stance. Yet the measuring tape doesn't lie.
I do like the overall styling, though; Skoda isn't one of those brands that puts shape ahead of everything else but Kodiaq is a good car to show off. The trademark sharp lines and angles that have always suited the bigger cars best really work for this one. Sure, the face takes a little while to warm to, but the detailing there is impressive, particularly with those straked LED 'eyelashes' within the head lamp housings. The rear lights, too, have a have a crystalline appearance to them, look fantastic.
But looks are surely secondary. Skoda knows its customers have eyes more for functionality and practicality. That's what the 'simply clever' motto is all about.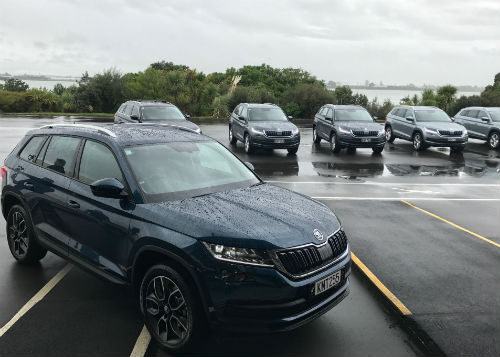 All current Skodas have tons of clever features, but Kodiaq is more of an Aladdin's cave than any others I've experienced.
So many ideas. A five minute walkaround was hugely illuminating. The ice-scraping tool within the fuel flap is familiar already, but this time it also works as a magnifying glass. Inside the boot, the interior light detaches to become a torch which is magnetised to stick onto the car. The bottle holders between the front seats have little 'grips' on them which allow you to open a lid of a bottle with one hand. Picnic trays on the back of the front seats; integrated window blinds? It's possible. USB and power ports abound. It has two gloveboxes, one chilled. The tool kit includes some backup fuses plus tweezers to install and remove them. And, of course, there are umbrellas in the front doors.
The doors have integrated protection strips that flip out when you open the door, so that it won't bash on the wall or another car. Okay, they're not the first to have this, but the other VW Group car that takes this feature is a Bentley. The money to buy one of those would buy the entire Kodiaq range.
Kid-minded functions abound. You can remotely activate/deactivate child locks from the driver's seat and activate a system that picks up the driver's voice from the Bluetooth microphone and pipes it to the rear passengers via the stereo speakers. There's also a 'sleep system' on the rear passenger head rests, that flip forward allowing your head to be supported should you want to have a nap in the back. I've since discovered Skoda can provide a snuggly blanket that clips onto the front headrests. I'd love to meet the people who think of all this stuff.
Beyond all this, it has the traditional SUV flexibility with a middle seat that splits 60:40 and tilt-and-slides on rails for third row passenger room, while the backmost chair fold into the floor to increase the load space and provide (as, of course, you knew it would be) a properly flat and double-sided floor. The door itself is powered. The spare wheel is a space-saver, but the rim houses the stereo subwoofer for the stereo.
Cargo volume extends from 270 litres with the third row in place, to 630 litres as a five-seater, and to 2055 litres with all seats folded flat.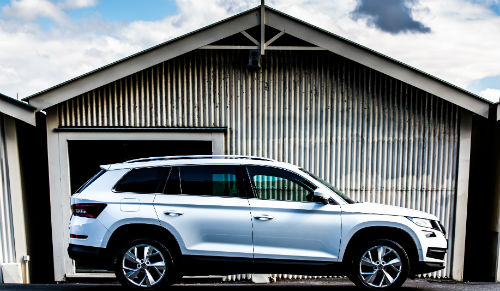 Occupant room is pretty good. It's a family wagon, not a hotel shuttle, so obviously the rear chairs are really for children, but the middle row offers good head and lower leg room and you can have the front seats all the way back and not compromise the space behind behind too badly. All the seats seem to be very comfortable, too. The outside rear seats both support ISOFIX seats and have about 10 degrees of recline.
While it stops short of using premium materials there's a lot that makes it feel upmarket; that's a VW thing, of course, but you'd argue there's been improvement by Skoda.
Take as an example the central eight-inch glass-fronted touch screen with predictive function that has pride of place in the dashboard; it's from the Golf and Passat but has sharper graphics and colour usage here. In Europe, this system supports a telemetry and online data services package called Skoda Connect, which delivers consumer convenience like Google Street View and mobile app connectivity to check on things like where you parked, how much fuel is in the tank and so on. NZ isn't quite ready for that, but maybe one day will.
On a streaming wet day with a wide mix of road conditions and some moronic behaviour from fellow road users, I didn't feel to have drawn a short straw by being restricted to the biggest engines and all-paw ability.
The petrol pulls well off the mark, has a broad torque spread – starting from 1400rpm – sounds smooth and seems to be relatively frugal. For all that, it is nonetheless comfortably overshadowed by the diesel, which has even more pull and, with considerably more torque (generating from not much higher in the rev band) – is all the more likeable. It feels more comfortable in marriage with the seven-speed direct shift gearbox also feels more confident when asked to overtake.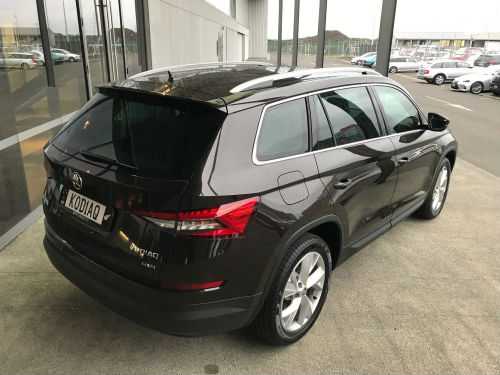 You can adjust the driving modes to an eco, comfort, sport, snow and individual setting, as well as the default normal mode. Changing to sport unsurprisingly allows a markedly more responsive throttle (and slightly heavier steering weight.
For all that, neither unit is especially powerful; if you want real zest, best hold fire until the RS comes in with its 177kW/500Nm bi-turbodiesel. Also, I'd add the caveat that I was driving solo all day. It might well be a less energetic car with those six empty seats occupied, especially by bigger bodies. Maybe, then, the 1.4 wouldn't be the best choice for taking the senior XV's backs to training.
The dynamic side? It's not a particular vivacious car for cornering and so on; the Skoda recipe is more about comfort, relaxation and keeping small 'uns' stomachs settled. But it does feel smaller and lighter on the road and there's good road-holding and even some degree of genuine agility. Ride quality has a lovely compliance. I'd assume the weight also helps there.
What I will say is that, even on coarse chip, it does run very quietly; more a testimony to extensive sound-quietening efforts - under the rear wheel arches, for instance is a carpet-like coating – than any breakthrough by tyre engineers. Mechanical and wind noise are also as well quelled as road roar.
Adaptive cruise control and AEB are standard features. The ACC system worked well, even queuing to a stop. The AEB wasn't tested but Skoda is canny enough to know they won't get a maximum NCAP/ANCAP score without it, so …
There's plenty of other cool tech available as an option too, from a three-dimensional surround view parking camera to a clever trailer-reversing assistance system that uses the automatic parking function to help steer the trailer in the right direction.
It would have been nice to assessed whether this is a SUV that's purely streetwise or has some sludge-running strength, though perhaps that's not going to be a concern for customers.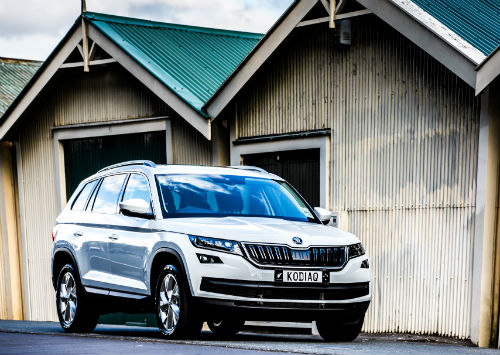 Otherwise, on first impression, I'd have to say it's pretty much all that Skoda New Zealand promised it would be. The seven-seat capability will be a strong selling point, but is hardly the sole strength – indeed, it's highly possible that some people will simply keep those rear chairs folded and just use it as an extra-capacious wagon. That'd be my preference.
In short though, it is a very impressive car; the best modern Skoda I've experienced – which is hard to admit, because I've always thought the current Superb 4x4 wagon to be extremely tasty - and one that should end any residual prejudice against this brand's image.
Any rival brand expecting to find obvious flaws is going to be severely challenged.