Monday June 12, 2017
By Richard Bosselman
LIFE is good for Suzuki here – to the end of May, year-on-year growth is running at 45 percent, well above the industry norm.
Much of the increase is down to the swing toward sports utilities, which has synched especially nicely for the latest Vitara. The medium rockhopper has lifted its stocks rapidly.
So what does that mean for the car that has driven so much of Suzuki New Zealand's success for so long? Well, yes, the Swift has started to lose ground. A year ago responsible for 48.2 percent of the Wanganui outfit's sales, it now captures 31.8 percent.
Not to worry. Don't imagine the best days are behind this compact hatchback. Suzuki's first car fully designed for global consumption has in its past two iterations been a gift that keeps on giving, including in New Zealand, and thought from today's launch of the third generation line is that nothing will change.
The No.1 light car market choice since 2005 will hold that mantle going forward; likewise, despite that SUV swing, it will continue to place as Suzuki New Zealand's top-selling product (with 2080 registrations picked) and remain the top pick with the country's private buyers.
Actually, if you're looking for any vehicle that might threaten the Swift it won't be the Vitara or light car rivals the Honda Jazz, Toyota Yaris, Holden Spark or Mazda2.
No, the biggest threat to the NZ-new Swift is … the Swift. Sorry? By that I mean the Swift as a used import. Around 500 pre-owned examples are coming in per month, an influx that impacted on the outgoing car and also means that, of the estimated 77,000 examples of the two previous generations, only 32,000 were NZ-new.
Still, easy to see why this tyke has come out tops with so many. While it has not been completely without flaw - the cabin fit out never been best in class, and it hasn't (and still doesn't, mainly due to the ripply ride and significant road roar) proven as comfy for long distance, open road travel as some Euro babies - it has always rewarded for space, specification, value.
Above that, in the right environment, it is the epitome of cheeky, chic and cheap driving fun. Hence, perhaps, why two thirds of buyers are female and more buyers are under 30 than over 70.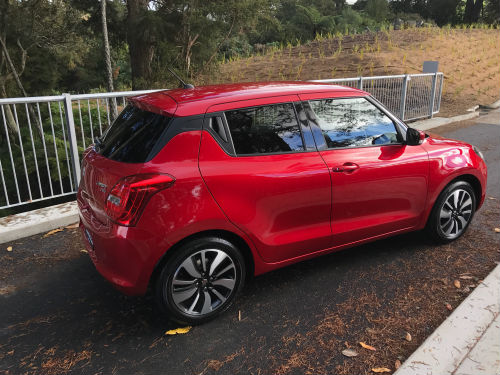 And by the way, that's also how it goes with the gen three. At our first meeting, staged at Rainbow's End fun park in Manukau (because Suzuki sponsors a children's driving-themed ride there), it's probable that the only initial quibble might concern the revised styling. A sense of the look that has proven incredibly timeless still remains, but the evolution – which intends to create more emotion and enhance its youth appeal - makes it more of a curiosity.
That it appears slight bigger is a trick of the eye. In actual measurement it is ever so slightly smaller in a few dimensions - it's 10mm shorter and 15mm lower – and the export variant is also 40mm wider than the Japanese-market cars (yes, they're doing two body widths, with the difference in the wheel arches, because export cars have wider tyres) and the wheelbase is stretched by 20mm.
But is it as super adorable as before? The debate starts now. The whole front has lowered and widened to a point where it's almost as if you're looking at the outgoing car through a distorted lens.
Overall, though, it remains highly identifiable as a Swift. The black A-pillars and floating roof remain, but they are dressed up with pretty new LED DRLs and tail-lamps, carefully contoured flanks, and a matching C-pillar with hidden door handle, a design tweak that apparently addresses overseas' concern about the lack of a three-door model this time around.
The cabin is more sober-looking and less adventurous in nature to the Ignis' interior; it looks and feels modern, and the build quality is great, but there are still too many cheap-feeling hard plastics. At least everything is intuitively laid-out and clearly labelled and it has better seats than the old car; a superior driving position, too.
The longer wheelbase benefits interior room, but extra space in the back also allows from Suzuki having lowered the seat base in the rear; it all makes just a few centimetres' difference, and it's still a cosy car for four adults, but entering and leaving the rear is easier for the tall and they'll also ejoy having a bit more head and legroom. Meantime, the boot has grown 32 litres to a commendable 242-litres with all seats in place.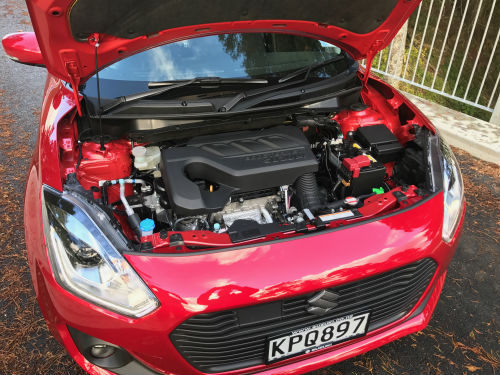 In addition to the advanced forward detection safety system, which affords on the GLX and RS (Suzuki NZ says it would have liked it on the GL, as well, but we're taking a common spec with Australia, which felt the base edition would lose cost advantage with it), the range has Bluetooth, cruise control, electric windows and mirrors and LED driving lights and, above the base manual, automatic headlights, adaptive cruise control, a 360-degree surround view camera and a reversing camera become more prevalent.
Touchscreen sat nav and Apple CarPlay/Android Auto also come in all models save the entry manual … another reason why that car is expected to be ignored by 95 percent of buyers. The GL and GLX have manual air conditioning while the RS, which is expected to be the strongest selling variant in the short term, steps up to a climate control system.
So, what's the pick of a range spanning three specification levels, with a new RS now flying the leadership flag, two engines – a 1.0-litre three-cylinder for the range-topper alone and a 1.2-litre four for all else - and three transmissions (bespoke six-speed auto for the flagship, a single five-speed manual in the entry 1.2 and otherwise a constantly variable transmission)?
The timetable and our need to take photographs meant we abdicated the convoy around Clevedon and spent the entire duration in the RS. This proved no hardship and really seemed to make sense, as this $25,990 82kW/160Nm model is expected to win, at least initially, more volume than the cheaper GL and GLX cars with a 66kW/120Nm four-cylinder 1.2.
As reported last week, the new engines maintain the torque of the old, but have less power, but any perceived deficit is offset by their zestiness and the intensive weight reduction. The new Heartect platform, shared with the Ignis and Baleno, is in itself 30kg lighter than before, but there's an overall 120kg reduction in kerbweight of between 890-980kg.
Don't think this means 'flimsy'. This shell has triple the high-tensile steel of the old one, so rigidity is increased; theorectically one plus is that it reduces drivetrain vibrations. There were no creaks or rattles from the car during our drive.
The company has also added sound-deadening materials and talk from the parent is that it is a few percent quieter at highway speeds than before. That might be so, but we did think the surface-generated din from coarse chip encountered out the back of Clevedon was … well, quite noticeable. My driving partner and I reckoned a Ford Fiesta would have been quieter.
Actually, the Blue Oval babe is a good comparo, being the only other small hatch with a thri-pot one litre.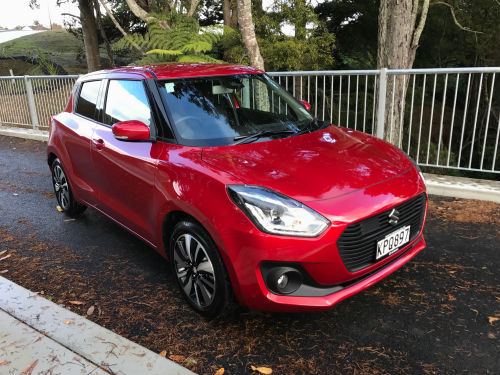 From our limited wheel time, there's a sense this Swift is as nippy and zippy as before; although the suspension is not exactly leading edge in comprising an independent setup at the front and a basic torsion beam at the rear, there's an agile road feel and, while light, the now variable rate steering is responsive.
The three-cylinder engine isn't as aurally characterful as Ford's, but the tri-pot soundtrack still sounds through and is quite pleasant to tune into. And it has lovely verve, no question: The torque delivery is smooth and generous, and though it seems to love being revved up, there's a sense that it will be just as pleasing when driven in more sedate style. We also found the six-speed automatic quite pleasing, not least when slotted into manual mode (too easily undertaken inadvertantly, as the mode sits right below Drive without any kind of detente) operated through the steering wheel selectors.
Where this small car smart will really show through is, of course, in the street. You're talking about a car with a turning circle of just 9.6 metres and has pretty decent all-round visibility.
So for all the talk of wheels up change, there's an awful lot of familiarity.