Monday September 4, 2017
For: Great design, great value, brilliant storage and driver assist touches.
Against: Diesel only arrives with highest spec, third row seats for occasional use.
By Richard Bosselman
HISTORY is important, but so is change – while Skoda is not afraid to celebrate its past, it is very much a forward-looking brand.
Every 'new-age' Skoda model – that is, every car created since this Czech marque subsumed into Volkswagen Group – has reflected the marque's advancement intent and, in doing so, has put a nail in the box holding all that we once associated with the brand when it came here in its 'first life'.
The past decade has brought a succession of impressive cars that have done much to raise market credibility and strengthen status as the ultimate mainstream European smart buy, albeit only perhaps in certain niches.
The Superb, for instance, shines much brighter in its wagon format that the alternate sedan; the Octavia has strongest appeal in performance and soft-road outcomes.
With Kodiaq, though, it's different. No such caveat applies, and not simply because it's just one car in different levels of specification. Famed for its quiet levels of sensibleness, the brand has gone all out to make its first ever sports utility 'The One'.
That's predictable, right? SUVS are, after all, SO important. All the same, this one is exceptionally key. In NZ lofty quasi-terrain-suited vehicles are the predominant passenger choice. Accordingly, this seven-seater crossover on VW Group's latest and most important platform is charged with at least doubling Skoda's sales here. That means every one of the four versions available at the moment has to do its bit. The good news is that, from my experience, you can probably settle on any derivative and, very likely, it will simply resound as being the best choice, full stop.
Admittedly, that conviction comes from spending a week in the most expensive edition here, the $58,290 Style TDi, which delivers the highest specification, is four-wheel-drive and, for now, is the sole choice with a turbodiesel that, in this 2.0-litre format, is the most muscular engine in the family, with 400 Newton metres torque (plus 140kW power).
The model bearing the most fruit is generally the one that carries the highest premium. That is the case with the Style, given that it stands $4000 clear of the petrol equivalent which, in turn, is $9300 pricier than the medium-grade Ambition Plus model.
Yet, here's the thing… even though it is the premium product within this family, the highest-provisioned Kodiaq on the market still seems remarkably good value when measured against virtually everything else in comes up against. Actually, let's change that. It seems unbelievably good value.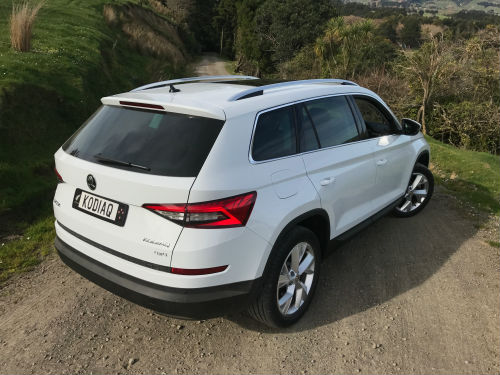 It particularly causes a world of pain for anything else around of similar size and with the same seating count. The one common mantra out of car companies whenever they're asked to justifying stickers that seem a bit steep is that their products are "priced to what the market will stand."
That being the case, you wonder how long it will stand for everything else being made to look, in varying degrees, stupid by this Kodiaq.
From my perspective, the Kia Sorento, Mazda CX-9 and Mitsubishi Outlander take something of a significant singeing, while the likes of the Hyundai Santa Fe and Toyota Highlander are utterly burned, given that those two are lower specified – the Toyota struggling, even, to match the full safety specification meted Kodiaq, which stands out for having everything including automatic emergency braking. And see that pile of embers? It's the remains of any European alternate, all of which are dearer. The only reason the brand that begat this revolution, Volkswagen, escapes the pyre is because it still doesn't have a seven-seater SUV, a situation that won't remedy until a long-wheelbase Tiguan (using the the Kodiaq underpinning) comes in 2018. I'd call that game, set and out-matched.
What impresses all the more is that Kodiaq simply shatters the 'buy cheap, get cheap' notion. There is nothing whatsoever obviously cut-price about this car; if any corners have been cut they must be very remote and well-hidden indeed.
The fulsome specification and all those 'surprise and delight' touches – the brollies in the doors, ice scraper/magnifying glass on the fuel flap, a boot interior light that double as a torch, bottle grips in the cupholders, the protectors that deploy when you open the doors as a foil to dinging other cars in car parks – are all brilliant in themselves.
But what really impresses is that, in detailing, material choice and quality of build, it truly imparts at a level of excellence that is usually only found well above this pay grade.
For a practical, family-first proposition, it is remarkably executive. It says much about the freedoms that the individual brands within VW Group are allowed that, were comparison restricted to that family alone, you might be left thinking that the Kodiaq cabin and kit, in all aspects of presentation, is not just a step up from any previous Skoda of recent times.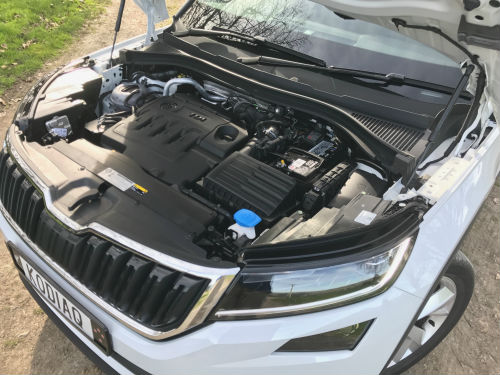 It's my view that Skoda does the typically VW Group elegant layout better than VW and Audi. The presentation of this car's touchscreen is certainly superior insofar as the fonts' look and colour goes (Skoda's signature bright green is more 'now' than Audi's red and VW's blue) and just as flashy in its functionality – as in an Audi, it swipes like an iPhone. The quality of the plastics and leather, the tactility of materials on most contact points and provision of felt-lined door pockets front and rear suggests the 'budget' brand is no less diligent when it comes down to finishing touches. And, on top of this, there's a ton of incredibly clever Skoda-centric features.
That is not to say the Kodiaq achieves utter perfection. As much as Skoda's famous clever packaging techniques and utilitarian bent make it the perfect brand to branch out into the large SUV segment, it is slightly snug as a seven-seater. The third row should be considered occasional for kids; it does the job but overall works even better as a five-seater with an extra voluminous, 630 litre boot.
Also, the car on test suffered a glitch I've encountered in VW product; the eight inch touchscreen's occasional tardiness to reassert, after restart, marriage with a smartphone to enable Apple CarPlay. On one occasion, the Kodiaq's screen simply blacked out completely. Because, as I say, I've had this occur on VWs, I knew the reboot process – stop the car, turn everything off, start again. In this instance, the Kodiaq came out of its fug immediately.
What else? The styling is true to the Skoda playbook, with a certain angularity that some thought a touch out of step with modern convention, and this is yet another car on which the trademark grille doesn't seem to sit quite right. In saying that, though, it's by no means a quirky-looking, let alone ugly car; the dimensions are not in any accentuated by the styling – quite the opposite, really – and the detailing is extremely well executed, not least in respect to the lights.
There's enough polish and design panache to leave impression of it being just a bit posh, but without the snootiness. Really, of course, it's about practicality and utmost utility; which is perhaps why it resonates so strongly personally. I just love any car that exudes a sense of daily usefulness. The Skoda does that.
The impression in my head is every person called into this project probably has a hands-on weekend hobby that involves making stuff or mucking in. Because the Kodiaq is inordinately well-designed to being part of that lifestyle, though it's not obviously tailored to suit an individual whim. Family first, and all that. It's designed to be packed full of people as much as lengths of wood, or model boats and planes, or dogs, or jumble sale furniture or whatever.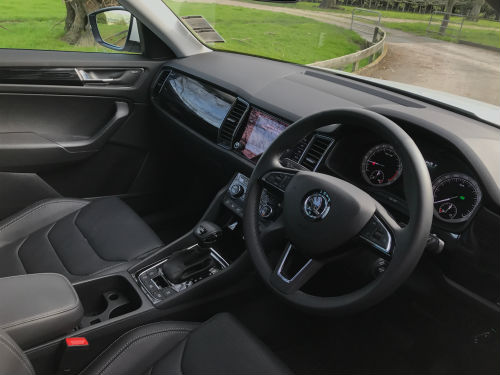 All the seats are tall and comforetable; it just comes down to legroom which is brilliant in the first two rows and more restricted in the last, even when taking into account that the middle row slides on rails by up to 18cm fore or aft. A good idea in concept but the challenge is that, when you create enough room for the rear, there's precious little left for the mid row. It also reclines a few degrees via a fabric loop situated by your thigh. Occupants sit tall, yet have good legroom, headroom and toe-room, and decent outward visibility through the rectangular windows.
There are ISOFIX points on the outboard seats and three child-seat anchorages behind the middle row, which folds on a 40:20:40 basis.
I'm not the first, and won't be the last, to suggest the Kodiaq is the textbook definition of a 'five plus two seater'. With all three rows in use there's still 270 litres of cargo space, which – if you're looking for a point of reference in this price band - exceeds that of the Mazda CX-9. Take all bar from the front seats down and you have 2005 litres' capacity, which is almost as good as a small van.
The Skoda also offers an automatic tailgate that raises high, clever levers in the rear cargo area to drop the middle seat row and an under-floor storage area for the removable sliding cargo blind. There are also side-mounted storage tubs, bag hooks and a 12V socket. Nice, right? I also enjoyed the tablet holders, pull-up sun blinds, LED reading lights, jacket hooks on the B-pillars and flip-down armrest with cupholders.
Before closing the boot, give consideration to the high level of convenience coming with one cost: The Kodiaq makes do with a temporary, space-saver spare wheel. This might not seem too tasty if you're one of those people who plan to use it off the seal a lot.
Which, realistically, you won't. Even though it has a specific an 'off-road mode', steel kick plates on the sills and a reasonable ground clearance, it isn't that tall or rugged and the all-wheel-drive is the on-demand sort. So it doesn't smack in any way as being an alternate to a Land Rover. But you will use it to tow and will appreciate the 360-degree overhead camera that, off-seal could be great for spotting and avoiding obstacles but, in daily use, is just perfect for easing parking.
Yeah, finally, we get to the driving part. Not because it is a disappointment, more because it is the only familiar ingredient of this recipe, being an engine and gearset used by VW product, most recently the Passat, but new in part to Skoda, insofar that this is the first model to employ the parent's seven-speed direct shift gearbox.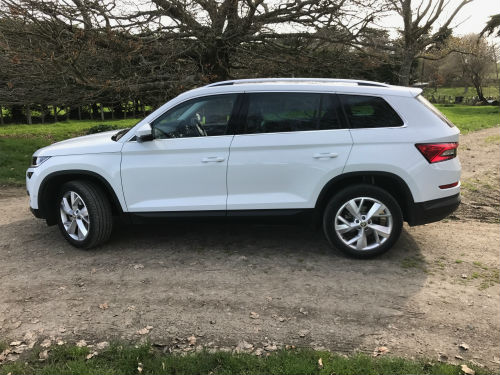 The diesel is the gruntiest engine in Kodiaq-dom at the moment; it has 8kW more power than the alternate 2.0-litre turbo petrol available in Style configuration and 80Nm extra torque. It is also the family thristmeister, with 5.7 litres per 100km claimed, though on my testing it returned a more representative 6.2. I'd assume VW takes into account the stop-start that turns the car off in gridlock and restarts when you lift-off the brake or touch the throttle.
The only time it gets silver rather than gold is in the 0-100kmh sprint; then the Style TSi is quicker, doing it in 8.2 seconds against the diesel's 9.2s.
VW diesels are under a black cloud, but issues they face overseas would not keep me from wanting to own this one. The most immediate attraction is the refinement – when my Subaru Outback diesel and the test car were cold-started one morning, the first rattled and the other purred. Until then, I'd had no qualms about the Fuji mill.
On the move, too, the diesel is an effective and really rather effortless combination. All that performance is pleasingly sold; more brisk that outright fast, but given the kind of car it is, a 'relaxed' attitude is fine by me. It seemed a shame the test example lacked a tow bar. I've loved to have used it to haul something. It works really well with a DSG box whose seamlessness reminds me that, as much as I have become accustomed to a diesel with a CVT, I'd still ultimately have gears.
Subaru's constant all-wheel-drive does lend more security than the Skoda one-demand setup, because the latter only sends torque to the rear axles when sensors detect the front tyres scrabbling for traction, though you'll only stand a chance of discovering this on seriously low-grip surfaces. The Off Road mode takes the standard four-by-four system with hill-descent control and further adjusts the throttle response and shift points to suit slippery surfaces. Is it better than Fuji's stunningly effective X-mode? In hindsight, it seems wholly remiss of me not to have found out.
Handling is better than you expect because it's the one big SUV that's not, well, so big (or heavy) as to be ponderous. Bear in mind that, within Skoda-dom, Kodiaq slots neatly between the Octavia and Superb wagons, being roughly 40mm longer than the first and 160mm shorter than the second (though the wheelbase is just 50mm shorter). For broader category context, note that it sizes up almost identically to the Santa Fe.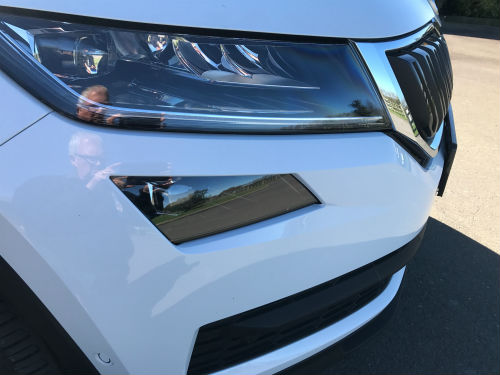 Accordingly, while there is some body roll through the bends, it's far from being an ocean liner in its demeanour. For sure you could argue it's not a car that communicates much with you when cornering, but it's well-behaved, well-balanced and goes where you point it. The steering is quick and well-geared and the various driving modes that adjust the steering weight and throttle response, plus damper settings, all contribute a different feel but without ruining the basic well-sorted recipe. It manages to run decent Pirelli tyres, with big (19-inch) alloys and still serves up a relatively compliant ride. More than anything else, it's incredibly refined even when covering surfaces that generally are not; one extra bonus, that our neighbours picked up on while passengering, was the system that picks up the driver's voice from the Bluetooth microphone and pipes it to the rear passengers via the stereo speakers. We found we could hold a conversation at normal speaking level while I was driving at 100kmh.
Anyway, by now you should get the picture. Basically, it comes down to this: If you want a medium large SUV that has more mod cons than anything else in the sub-$80k sector and delivers the best practicality of anything around, for the best money, then this car cries out for your attention.
This isn't just the best Skoda here now. It's unequivocally the best car in its class. And just as definitely one of the best new cars to come on sale this year. Good enough to be New Zealand Car of the Year, in my view.