Wednesday November 22, 2017
By Richard Bosselman
WHEN it comes to dream jobs, being paid to drive supercars around one of the world's most amazing race tracks has to be right up there.
Such was the fate that befell my mate Gavin. A Brit with a Kiwi partner, he came out here a couple of years back directly from a stint instructing in performance driving at Bahrain International Circuit.
Arriving pretty much at time of its opening – in 2004 – he got to hang out with some incredible people come Formula One time (he tells a great tale about crashing a golf cart with Bernie Ecclestone on board) and, as part of his day job, got to drive a lot of cool hot cars, including some incredible exotica from some local money-no-object collections. Yeah, what a life, right?
Surprisingly, the most ferocious road car he got to play in was a Hennessy Venom (though, admittedly, what was at the time the most potent version of that car ever created), though plenty of other stuff from the world's highest-rated performance houses rocked his boat.
He wasn't purely blinded by outright performance; his appreciation of engineering excellence has left him with a huge respect for Audi's R8, which of all the performance coupes used for the performance driving school was the only one that could, all day every day, take the intense Middle Eastern heat without raising a sweat.
So those were his work cars. For personal pleasure, he bought the predecessor to the car you see here.
Yup, a Skoda.
Well, his reasons for choosing the Octavia RS230 make as much sense now as they did then. Bloke who loves performance – and was living in a place that has a pretty ambivalent attitude toward it – but also, through having have a wife and two wee' uns to consider, also absolutely required practicality. There was also the voice (hers) that told him he needed to settle for punch at a smart price, too.
Anyway, when he came out here, the car had to stay there because, you know, small things like the steering wheel being on the wrong side. But clearly he missed it dearly because, when I took the version on test today out to his workplace, I'd barely managed to get out of the driver's seat when he was pushing me aside to see what had been kept, what had been changed and what had been improved.
Skoda NZ won't get a sale out of Gavin – if only because he's about to head back to his old job in the world's biggest sandpit – but I can imagine he won't be the only one singing this car's praises.
Effectively, you're getting the Golf GTi that VW doesn't offer here: A GTI in a more sensible suit. Bigger in every conceivable dimension, more fulsomely equipped, more sensible and yet, also, just as sizzling and, because hotshot wagons have a certain cachet, just as cool.
I won't tell you (though Gavin told me) how much this car costs in a tax-free country, but it's cheaper than here. Still, Kiwis don't cop too bad a hit all in all: Kicking off with what Skoda perplexingly insists on referring to as a sedan – when it is most patently a hatchback – the Octavia RS family starts at $48,990 and tops, in front-drive petrol wagon format as driven, at $52,890. There's also a dark-hearted turbodiesel RS with four-wheel-drive for another $2000, but that's a different story.
Octavia has been around for a while now, but a recent facelift that delivers all the expected external adjustments plus some specification changes allow opportunity for a revisit. Oh, yes, that and some ongoing mechanical adjustment.
Retirement is nowhere near in sight for the familiar EA888 2.0-litre engine and neither should it be; the wonderful initial zing, the clean, crisp roar as it piles on the revs heading to its redline and its sense of enormous strength as it smacks through the first four gears of the six-speed twin clutch direct shift gearbox remains an incredible attractant. Skoda has access to the same retune that went into the Golf GTI, so power here also lifts by 7kW to 169kW now while torque remains at 350Nm.
The powertrain's pace is still such a powerful attractant that, inevitably, it retains status as the most talked about feature. That and how well this car uses it. The power play is not outright brutish, but assuredly, pace is not something this model lacks. It is a properly quick car, with easily enough gusto to leave a number of far sportier looking like-capacity cars looking a bit foolish, in fact.
The kapow is conditional on … well, road condition. Even though it is treated to some super-grippy rubber, has a firm and lowered stance and is also meted, beyond all the usual high-calibre traction aides, a standard electronically locking front differential, which helps it to put down the power through the front wheels, and gives better grip and feel coming out of corners. you need to be aware that wheelspin is not by any means vanquished. On uneven or wet road surfaces, it can still light up.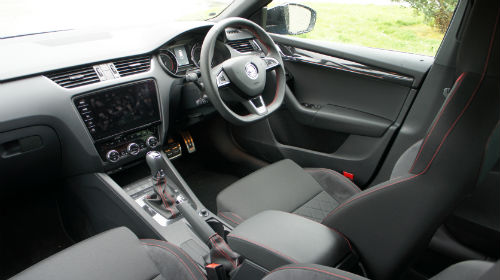 Ironically, of course, fast off the line starts are easier contained because, for these, Skoda provisions a launch control. You are, as always, left pondering whether this model would be even better with the all-wheel-drive meted the diesel alternate, though I suppose there's always a potential that the inevitable increase in weight, drivetrain complexity and cost are reasons why that's not so sensible. Gotta agree it's pretty impressive that, in the state it presents here, this car weighs just 50kg more than a Golf GTI hatch. Compare them side-by-side and you're swear the Skoda could not possibly be that lithe.
But owners of the world's favourite hot hatch should not be surprised if they find the Skoda hogging their rear-view mirror. Certainly, it does not lack for cojones to make press-on driving fun, for the wheel-holder if less so other occupants. The claimed 0-100kmh time of 6.8 seconds almost feels conservative and, as said, the mid-range oomph is massively agreeable. It addition to having walloping good grip, it also delivers very decent brakes and good steering feel.
In saying that, it would be wrong to suggest that it is a car of singular character. You can run hot … or not, depending on what settings are preferred. The transmission offers all sorts of driving strategies, with paddles for the control freaks, and there are five driving modes. While none changes suspension tune, the settings alter engine responsiveness, steering heft (with greatest weight in Sport), and even exhaust note; the sound – those who like to run with an accompanying orchestra of warbles and pops will find their salve with Sport's sound enhancer. There are also separate D and S settings for the transmission, so you can alternate between Sport and Drive; the latter offers such palpable lift in responsiveness that it became my default, though I did find myself hand-shifting because otherwise it tended to hold in lower gears until 4500rpm, which seems a bit extreme even in the 100kmh zone, let alone around town.
In driving style, the RS feels as snappy as it goes; yes, there are times when it can feel over-firm and rather fidgety. Those traits might be well resolved, or at least better contained, by spending up on the DCC adaptive suspension option, which seems reasonably priced at $2500. But I dunno. There's also always a chance this might introduce somewhat remote in its road feel, too. As is, while it does feel the surface indentations of back roads, it also handles them with aplomb. It's easy to feel at one with this car.
What also adds to the fun is that the athleticism is almost at odds with the aesthetics. Even with all its added RS addenda – the big front air intakes, the pretty and over-sized allows and the twin trapezoidal pipes - the sportiest Octavia does not exactly strut like an Olympian; you'd call it quietly handsome, but it's not outright yobbish by any means. It is a touch better looking around the face, now, thanks to a headlamp styling change that also demands a slightly different nose shape.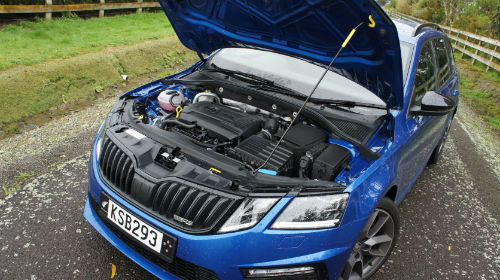 The update also enhances the equipment, not that it was ever really lacking: Scrimping on spec is not Skoda's style. It has all the usual stuff like dual zone air, (now 3D) sat nav, seven airbags, comfort entry and LED headlights, adds keyless entry and start, a wireless phone charger in front of the gear lever and a removable LED light in the back and also now comes with Apple CarPlay and Android Auto, plus an internal hard drive that can be loaded up with music if desired.
You can add more, of course: leather to replace the cloth and alcantara suede trim, a sunroof, power seats up front … the options list is extensive. Conceivably, ticking all boxes would create a $70k car. But would it be any better?
It's better, I'd say, to keep it simple and sensible; an approach that better suits a car that, when the performance edge is set aside for a moment, is here to ace on practicality. Despite an enhancement in wheelbase, the Octavia feels narrower than some medium rivals, but that's offset by it being a bit longer. The load space behind that electric tailgate is hardly poor; you're looking at 610 litres of luggage space expanding to 1740 with the rear seat backs dropped.
Looking at the rear area, too, you just know that the people who shaped and outfitted it understand what wagons are about: It is very much designed and trimmed for practical lifestyles. Hard-wearing carpet that hasn't the usual loops to ensare dog hair; plenty of bag hooks and movable plastic velcro dividers to stop boxes sliding around.
Ironically, perhaps the one inhibitor now to stuffing this car full of odds and sods of all shapes and sizes is that the remainder of the cabin is now more artful than ever, not least within the primary area of occupancy.
While the general shape of the consoles, door trims and so on remain as before, the materials have upgraded, many now being the same classy components you see in latest Volkswagens and even Audis. In general ethos, the Octavia interior – at least forward of that cargo compartment – is as upmarket as that of the latest Golf. Which is to say, it is all rather swish.
There are lots of glossy plastics, even small swatches of carbon fibre-ish stuff and it also implements ambient lighting strips in the doors which can be set to any one of ten colours depending on your mood. These look great at night, as does the footwell lighting in the front and rear. All this suggests a premium air that might seem just too nice to risk besmirching. I can imagine owners will be taking precautions; draping towels over at risk areas before they load in a bike or a month's worth of recycling.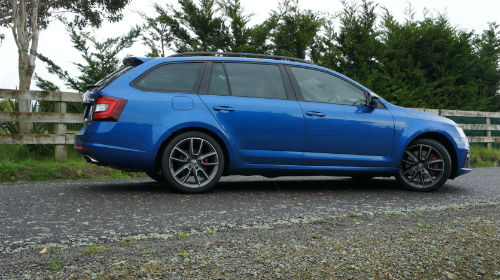 If practicality is what sells it, you're certainly not going to mind the panache. I like, for instance, that it's very much a driver's car, one in which that person is well treated, starting with an excellent driving position and continuing with a flat-bottomed steering wheel. All this speaks of sporting spirit. So too the instrumental layout; Skoda's displays are effectively identical those those in VW-Audi product, yet always seem to have better visual appeal; it's really mischievous that the cheapest choice car, as result of superior colour sets and fonts, looks the best.
There aren't many GT wagons of this ilk in this price range, but that doesn't mean the Octavia is not without any rivals. One vehicle that might cause it ructions is, of all things, another Skoda.
Skoda intends to produce an RS edition of its Kodiaq and, though it might not scurry so effectively down country roads as the Octavia, that performance edition will offer in all-wheel-drive and likely have some off-seal ability. As is, the mainstream Kodiaqs here now are all this Octavia's price zone and can offer more seats and more practicality than the performance wagon.
It all comes down to whether you want to prioritise sizzle over space, or vice versa.